Giới thiệu: Air-Combat Drone Test Pilot Missile Attack Sim 3D 1.1 IOS
Air-Combat Drone Test Pilot Missile Attack Sim 3D
Giới thiệu Air-Combat Drone Test Pilot Missile Attack Sim 3D
Welcome to the most advanced Combat Flight simulator on the app store. If you were looking for a full featured combat flight sim with endless missions and advanced weapons systems, you have found it.
4 Fully Loaded Drones Included in the app
-Predator MQ-1 with 2 Ultra Hellfire
-Global Hawk with High Impact Cannon
-Reaper Drone MQ-9 with 8 Hellfire Missiles
-X47B with High Impact Cannon + 2 Tomahawk Missiles
Not just a flight sim. Its a full combat, full featured flight sim. All aspects of combat are included in the app from takeoff, landing, locating target using the navigation system, locking in on your target, and firing missiles to destroy the target.
Work you way up through the ranks from Drone Cadet all the way to 5 Star General.
As you work your way up, more drones and weapons will become available to you.
High Quality Drone Models:
The drone models feature landing gear, lights, flappy flaps, missiles, and other realistic airplane features.
Flight Sim Features:
We spent countless hours fine tuning the flight sim controls for each drone. From the moment you takeoff, you will feel the work and effort put into this game. You have the option of using the Accelerometer control or button control.
Weapon Systems:
This is one of the most cutting edge features of the app. As you approach your target and come within 1km of your target, the missile with automatically lock on to your target. This makes the game fun and easy to play for kids of all ages
Pass Missions to Improve Rank:
Missions are packed with challenging objectives. Pass each objectives to advanced in your flight career.
Hình ảnh Air-Combat Drone Test Pilot Missile Attack Sim 3D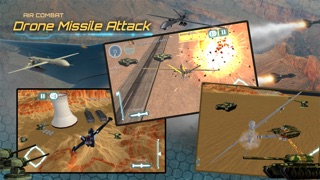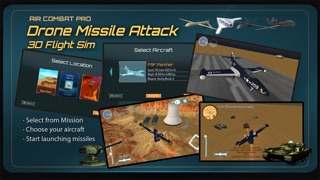 Thông tin bổ sung
File Size: 228,568 MB
Phiên bản: 1.1
Đánh giá:
Tổng đánh giá:
Ngày cập nhật: 2014-03-12 18:28:10
   
Tải Air-Combat Drone Test Pilot Missile Attack Sim 3D
Chú ý: Game này chỉ dành cho Iphone, IPad, và các thiết bị sử dụng IOS của apple
Click vào liên kết dưới để tải về điện thoại của bạn.
  
Một số game bị Apple Store khóa nên sẽ không tải được, hoặc nhà phát hành game không còn cho tải game này nữa vì game đóng cửa.
IOShay không chịu trách nhiệm về game và ứng dụng bạn tải về.