Giới thiệu: Bike Pro – Free Racing Game 1.0 IOS
Bike Pro – Free Racing Game
Giới thiệu Bike Pro – Free Racing Game
"A great game! :)"
"Lots of fun."
"Very nice graphics!"
This amazing free racing game has everything you need! "Bike Pro" is a lot of fun and very exciting. You play with Jim, a tough guy. If you collect enough points then you can unlock the 2nd main character. You will see, the game is not easy.
Jim will drive as soon as the game starts. Unfortunately the brakes don't work anymore. But Jim doesn't need brakes at all. He steps on the gas and has a lot of fun.
There are many bad obstacles on the course like an electric Tesla coil. He has great skills and is able to jump with his motorbike. But be careful. Some mutated bats are flying around. Have a lot of fun!
Advantages
→ Exciting atmosphere
→ Cool music
→ Easy to play
→ Is a lot of fun
→ Gorgeous graphics
→ You can play with 2 main characters
→ Game Center supported
Hình ảnh Bike Pro – Free Racing Game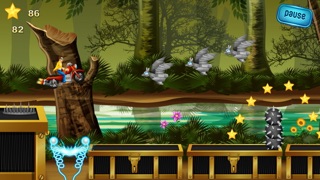 Thông tin bổ sung
File Size: 34,328 MB
Phiên bản: 1.0
Đánh giá:
Tổng đánh giá:
Ngày cập nhật: 2014-01-01 08:00:00
   
Tải Bike Pro – Free Racing Game
Chú ý: Game này chỉ dành cho Iphone, IPad, và các thiết bị sử dụng IOS của apple
Click vào liên kết dưới để tải về điện thoại của bạn.
  
Một số game bị Apple Store khóa nên sẽ không tải được, hoặc nhà phát hành game không còn cho tải game này nữa vì game đóng cửa.
IOShay không chịu trách nhiệm về game và ứng dụng bạn tải về.