Giới thiệu: Casino – Slots 3.2 IOS
Casino – Slots
Giới thiệu Casino – Slots
Play the most funny and excited slots on Casino Slots. Lovely Buuny girl will guide you in this casino game!
This is available on iPhone/iPod touch/iPad. You can bring it out anytime anywhere! What's more, Casino Slots is totally FREE! You can never miss it if you are slots lover!
*In Casino Slots, you can upgrade to unlock various slots themes, such as:
Fresh Fruits, Delicious Fast Foods, Women's Cosmetics, Addictive Solitaire, Horrible Halloween, Sweet Christmas, Sunny Sands, Physical Sports, War and Peace, Voyage.
* You can get free booster for first install, booster can help to multiply your winning from 2 to 5 times!
* Daily bonus will keep increasing each consecutive day, so don't forget to get these fortunes everyday!
* You can play lucky draw for every hour, big winning are waiting for you!
* Invite Facebook friends, you can get coins as reward, and you will receive ectra coins from friends when he or she win big!
* Many chances to win FREE SPINS.
* Universal for iPhone/iPod touch/iPad
Become the Slots fans and win big!
Come on!
Any suggestion, please feel free to contact us!
Hình ảnh Casino – Slots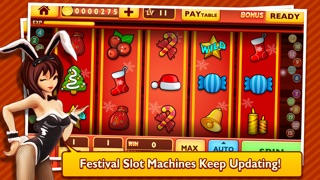 Thông tin bổ sung
File Size: 30,273 MB
Phiên bản: 3.2
Đánh giá:
Tổng đánh giá:
Ngày cập nhật: 2013-09-13 01:00:22
   
Tải Casino – Slots
Chú ý: Game này chỉ dành cho Iphone, IPad, và các thiết bị sử dụng IOS của apple
Click vào liên kết dưới để tải về điện thoại của bạn.
  
Một số Game bài có thể vi phạm hoặc nhà phát hành ẩn khỏi Apple Store, nên khi truy cập sẽ không thành công.