El Dorado Reelslot 2
Giới thiệu El Dorado Reelslot 2
El Dorado Reelslot 2
We are proud to present our outstanding new reelslot game 'El Dorado 2 – Zuma vs. Pharao'.
Forget what you know about slot games, this game takes gambling to a whole new level.
With it's upright screen layout, dividing the display in two screens, you have twice the action. But there is another reason for the portrait mode:
El Dorado is the first reelslot game in the world, that brings you a versus game mode. Put the ipad on the table, face to face to your opponent, and play exiting battles in different game modes. Take the control of Pharao's, or Montezuma's reels. Give this fantastic new 2 player reel battle mode a try – you will be loving it!
Of course there are exciting new bonus games, there is a multi level mini jackpot within a bonus game, the 5power bonus has been reworked, there are free spins, there is a gamble feature, there is an improved auto spin mode, and, and and…
Of course the gaming firmware has been further optimized. The game runs super smooth now without any crashes.
Download El Dorado 2 now and enjoy it! Find out which secret lies inside the golden pyramids …
Hình ảnh El Dorado Reelslot 2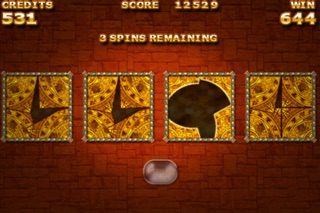 Thông tin bổ sung
File Size: 40,102 MB
Phiên bản: 4.0.1
Đánh giá:
Tổng đánh giá:
Ngày cập nhật: 2011-03-14 23:18:44
   
Tải El Dorado Reelslot 2
Chú ý: Game này chỉ dành cho Iphone, IPad, và các thiết bị sử dụng IOS của apple
Click vào liên kết dưới để tải về điện thoại của bạn.
  
Một số Game bài có thể vi phạm hoặc nhà phát hành ẩn khỏi Apple Store, nên khi truy cập sẽ không thành công.