Giới thiệu: Minecart Chase 1.6 IOS
Minecart Chase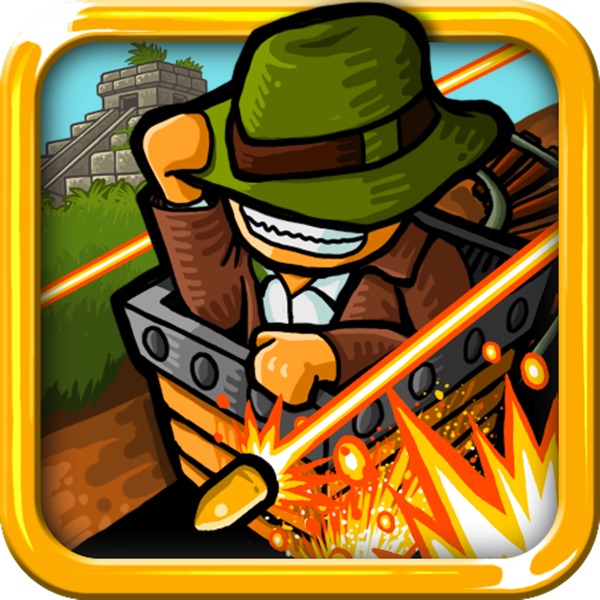 Giới thiệu Minecart Chase
★Minecart Chase★
Harrison Jones, a world famous archeologist, has found mystic 'Frozen Diamond' in the shadow of Temple. but army of darkness want it too. When he escape from temple, though, army of darkness also found him, Now it's up to him caring 'Frozen Diamond' From temple to UFO before it's too late. He has a mine cart with speed and diamond energy will give you boost speed. he needs your control to escaping from evil. and Explore exotic locations, find hidden keys to get more item. 'Minecart Chase' a breathtaking adventure to the unknown!
'Minecart Chase' is speedy casual arcade game.
just touch and hold to slide down
Use the hills as jumps – slide down, and Jump up high to sky
precise moment touch release and let cart fly on mysterious temple valley.
Until UFO has shown Jump up go on~!
Highlights :
♣ Control Mine Cart
Jump up go far away and escape from dark chaser.
if you can make 'Great Slide' it gives additional boost power
♣ Treasures.
Collect Gold Coin and Gold Key.
Upgrade your mine cart or New Cart
♣ Mission
Complete over 50 missions to get more Gold Coins.
♣ Upgrade
Tune up your cart ability
Speed, Power, Control, Energy and Head Starter etc.
♣ Valleys.
The Temple Valley is changing everyday, and Each level has special condition has set up on stage.
Hình ảnh Minecart Chase
Thông tin bổ sung
File Size: 24,802 MB
Phiên bản: 1.6
Đánh giá: 5
Tổng đánh giá: 14
Ngày cập nhật: 2012-06-22 07:00:00
   
Tải Minecart Chase
Chú ý: Game này chỉ dành cho Iphone, IPad, và các thiết bị sử dụng IOS của apple
Click vào liên kết dưới để tải về điện thoại của bạn.
  
Một số game bị Apple Store khóa nên sẽ không tải được, hoặc nhà phát hành game không còn cho tải game này nữa vì game đóng cửa.
IOShay không chịu trách nhiệm về game và ứng dụng bạn tải về.