Giới thiệu: Rasta Slots 1.1 IOS
Rasta Slots
Giới thiệu Rasta Slots
It's time to get IRIE mon with Rasta Slots! Get your chance at the Mega Rasta Lion Jackpot and WIN a payout of up to 1,000,000 coins in the 1st ever "Reggae Themed" Slots AND Poker game!
– Rasta Slots also features over 20 downloadable tracks you can import to your iTunes library or play in app from top recording artists including Dub Easy, Stay Concious and the Home Grown Kush Band! Other features include . . .
– Interactive Rasta Gaming Vocals
– Custom Reggae Themed Sound Effects
– Daily Bonus Round (Win up to 5,000 coins every day you play!)
– 9 Game Center Achievements
– Game Center "High Roller" Leaderboard
– 1,000 Free Coins to Start
– Auto Spin 5, 10, 25 or 50
– Bet 5, 10, 25, 50, 100, 500 or 1,000
– Enhanced with Retina Display Graphics
Max your bet and get that jackpot! Anything higher than a Pair and you automatically go to the "Bonus Round" while also winning Game Center Achievements throughout your gameplay.
– REGGAE MUSIC: All New Apps has partnered with national recording artists Dub Easy, Stay Concious and The Home Grown Kush Band to bring you a wide range of reggae and rasta themed music, vocals and sound effects for a thrilling rasta slot game experience.
With our new high-speed batch audio downloader, you can download our music and ringtone packs for non-commercial use at lightning speed.* For an INTENSE rasta game playing experience, with wild bass-thumping action, plug your speakers or headphones into your device!
– BONUS ROUNDS: Choose the correct buttons without getting 3 "X's" and you could win thousands of Free coins! Coin values can also be multiplied for even higher payouts. It's pure Reggae-tastic fun!
– SLOT PAYOUTS:
1 Pair = x2
2 Pair = x5
3 of a Kind = x6
Full House = x25
4 of a Kind = x150
Mega 4 of a Kind = x200
Mega Rasta 4 of a Kind = x250
Jackpot = x500
Mega Jackpot = x750
Mega Rasta Lion Jackpot = x1000
– Get the "Mega Rasta Lion Jackpot" and win up to 1,000,000 coins!
COMPATIBLE WITH:
– iOS 6.0 and up
– Optimized for iPhone 5
– iPhone 4 and up (recommended)
– iPad 2 and up (recommended)
– iPad Mini
– iPod 6th generation and up (recommended)
To download music packs or buy additional coins, you must have a WIFI connection to complete your in-app purchase. There is no e-mail address required to download any of our music or ringtone packs.
c38b3a4e33
Hình ảnh Rasta Slots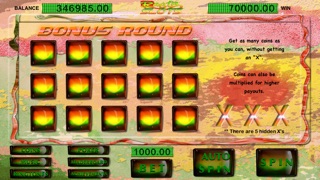 Thông tin bổ sung
File Size: 337,894 MB
Phiên bản: 1.1
Đánh giá:
Tổng đánh giá:
Ngày cập nhật: 2012-12-18 22:04:05
   
Tải Rasta Slots
Chú ý: Game này chỉ dành cho Iphone, IPad, và các thiết bị sử dụng IOS của apple
Click vào liên kết dưới để tải về điện thoại của bạn.
  
Một số Game bài có thể vi phạm hoặc nhà phát hành ẩn khỏi Apple Store, nên khi truy cập sẽ không thành công.