Giới thiệu: Scuba Safari 1.0 IOS
Scuba Safari
Giới thiệu Scuba Safari
Calling all treasure hunters!
After an epic sea battle, the entire pirate fleet has sunk in an unexplored region of the ocean. Now, a fortune in undersea treasure awaits anyone daring enough to go in after it.
Arm yourself with nothing but your trusty harpoon gun, or go all out with your own personal sea jet– it's your choice. Although the undersea world is beautiful and exotic, this expedition is no pleasure cruise. You'll have to fend off monstrous giant squid and electric jellyfish as they greedily guard the gold, silver, and bronze coins scattered beneath the briny blue. And stay on the lookout for biggest baddie of the marine world—the Killer Shark! Get out of his way fast… or turn him into shark fin soup! If you survive, you'll gain riches beyond your wildest dreams!
Will you brave the dangers of the deep?
Features:
-Earn coins to purchase advanced gear, from sea cruisers to submarines
-Harpoon or torpedo enemies with cool firing graphics and sounds
-Swim, fight, and explore to an addictive safari rhythm
-Challenge your friends with multiplayer Game Center support
-Rank on the Game Center leaderboard
-Enjoy innovative and addictive gameplay: touch the left side of the screen to go up and the right side to shoot
-Breathtaking Retina graphics
-Optimized for iPhone 5
Hình ảnh Scuba Safari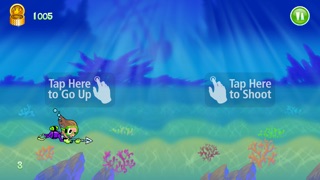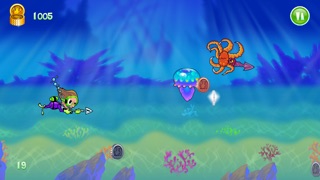 Thông tin bổ sung
File Size: 31,751 MB
Phiên bản: 1.0
Đánh giá:
Tổng đánh giá:
Ngày cập nhật: 2013-05-03 20:47:10
   
Tải Scuba Safari
Chú ý: Game này chỉ dành cho Iphone, IPad, và các thiết bị sử dụng IOS của apple
Click vào liên kết dưới để tải về điện thoại của bạn.
  
Một số game bị Apple Store khóa nên sẽ không tải được, hoặc nhà phát hành game không còn cho tải game này nữa vì game đóng cửa.
IOShay không chịu trách nhiệm về game và ứng dụng bạn tải về.