Giới thiệu: Tractor Farm Simulator 3D 1.1 IOS
Tractor Farm Simulator 3D
Giới thiệu Tractor Farm Simulator 3D
Play the most addictive physics-based FREE tractor farming driving simulator game
Bored with driving little crane or huge construction cranes, that you could try farm tractor driving and parking!
Test your real driving skills. There is a time limit to keep you on your toes.
Unfortunately the cargo isn't fastened very well but your job is to deliver everything from start to finish anyway
GAME FEATURES
– Realistic 3D Farm.
– Advanced vehicle and cargo physics
– Easy driving simulation controls.
– Multi direction camera controls
– 4 language support
HOW TO PLAY
This tractor driver simulation game is super easy to play. Simply follow the white arrows to the parking destination. Park the farm tractor and you're done!
More levels coming soon! If you have any technical issues, please write to me.
e-mail : [email protected]
Hình ảnh Tractor Farm Simulator 3D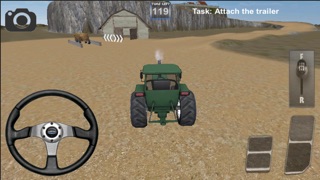 Thông tin bổ sung
File Size: 79,192 MB
Phiên bản: 1.1
Đánh giá:
Tổng đánh giá:
Ngày cập nhật: 2014-02-16 02:54:28
   
Tải Tractor Farm Simulator 3D
Chú ý: Game này chỉ dành cho Iphone, IPad, và các thiết bị sử dụng IOS của apple
Click vào liên kết dưới để tải về điện thoại của bạn.
  
Một số game bị Apple Store khóa nên sẽ không tải được, hoặc nhà phát hành game không còn cho tải game này nữa vì game đóng cửa.
IOShay không chịu trách nhiệm về game và ứng dụng bạn tải về.