Giới thiệu: TrialX2 Winter Free 2.17 IOS
TrialX2 Winter Free
Giới thiệu TrialX2 Winter Free
Trial Xtreme 2 Winter is the latest addition to the blockbuster Trial Xtreme series, which to date has exceeded 50,000,000 downloads and was nominated for the Best Sport Game award by IMGA.
Trial Xtreme 2 Winter challenges you with amazing new levels in a wintery setting of icy trails and snow-capped mountains, and contains original obstacles and challenges that take your experience to new extremes.
As with Trial Xtreme 2, which conquered the #1 position in the sports category in 64 countries, the winter edition also employs cutting-edge technology to give you the most realistic ride experience while demanding skill and concentration. Features include realistic physics engine, intuitive tilt-based controls and star grabbing that tests your  bike control and abilities. Trial Xtreme 2 Winter is all about balance, skill and control as you guide your rider across the ramps, jumps, exploding barrels and obstacles and collect stars in these brilliantly challenging new tracks.
Please note: this version contains 11 levels, for more levels please download the full version from the Appstore.
Game Features:
•Available for Apple iPhone, iPad and iPod Touch 5.0 and up
•Introducing brand new levels in wintery environment
•Negotiate hundreds of obstacles including exploding barrels, ramps, jumbo tires, rocks, planks and more
•Super detailed new Unity-powered graphics engine brings your rider and the game world to life
•Intuitive tilt control system using the phone's accelerometer. Use precision control like never before
•Ultra-realistic rider and bike physics built on the NVIDIA® PhysX® engine lets you feel it all as you flip, jump, bump and crash your way to victory
•Max out your score and play the world through Gamecenter
•Improve your score by collecting stars while navigating through obstacles
If you encounter any issue please contact us at [email protected] before posting a negative review
Hình ảnh TrialX2 Winter Free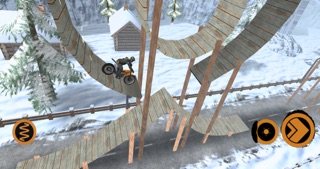 Thông tin bổ sung
File Size: 101,020 MB
Phiên bản: 2.17
Đánh giá: 4
Tổng đánh giá: 16
Ngày cập nhật: 2012-03-27 07:00:00
   
Tải TrialX2 Winter Free
Chú ý: Game này chỉ dành cho Iphone, IPad, và các thiết bị sử dụng IOS của apple
Click vào liên kết dưới để tải về điện thoại của bạn.
  
Một số game bị Apple Store khóa nên sẽ không tải được, hoặc nhà phát hành game không còn cho tải game này nữa vì game đóng cửa.
IOShay không chịu trách nhiệm về game và ứng dụng bạn tải về.