Turbo Kids
Giới thiệu Turbo Kids
Download the @FreeAppADay.com Store App and wish for more top rated paid apps like "Turbo Kids" to become FREE for a day!
Partake in the crazy Turbo Kids tournament and win the ultimate prizes!
An amazing journey full of fantasy and excitement! Turbo Kids are competing outdoors to win ultimate prize. Join in the tournament to see what Turbo Kids can bring you!
# Tap to jump and shoot bullets
# Different stages for four seasons
# Tournament: Regular, Relay, Timing, Chase
# Shoot Ice bullet to freeze opponents
# Shoot Exchange bullet to change position with opponent instantly
# Shoot Trap bullet to trap opponent
Learn different kinds of skill, unlock items and achievements, to be the real Turbo Kids!
Hình ảnh Turbo Kids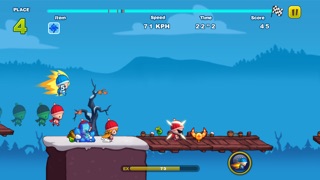 Thông tin bổ sung
File Size: 19,249 MB
Phiên bản: 1.0
Đánh giá: 4.5
Tổng đánh giá: 6
Ngày cập nhật: 2012-11-29 14:26:27
   
Tải Turbo Kids
Chú ý: Game này chỉ dành cho Iphone, IPad, và các thiết bị sử dụng IOS của apple
Click vào liên kết dưới để tải về điện thoại của bạn.
  
Một số game bị Apple Store khóa nên sẽ không tải được, hoặc nhà phát hành game không còn cho tải game này nữa vì game đóng cửa.
IOShay không chịu trách nhiệm về game và ứng dụng bạn tải về.