Giới thiệu: Vehicle Parking 3D 1.0.0 IOS
Vehicle Parking 3D
Giới thiệu Vehicle Parking 3D
Vehicle Parking 3D is a very original 3D parking game. Get driving and parking experience step by step in our cool new free to play parking simulator. Tryining to find a parking space in real life is not fun, sometimes you find a space. But you don't know how you should get your car in that space because the turn is just too hard to make. We collected 40 different types of hard and challenging parking situations in this 3D car parking game. Learning to park is one of the first thing you can do to build your driving skills, When you park, you preform many different actions that will help you in real life situations . Learn to manoeuvre your car through this fun and challenging situations .
We got four different of cars for you to park in this new free to play parking game! Drive around in a Mini, a super cool sports car, a pick-up and finally you can drive a truck so you can see if you got what it takes to become a parking pro! Vehicle parking 3D will test your skills in parking, it may seem easy at first, but the realistic physics in this parking game will make it progressively harder to play.
Control your car, pick-up or truck with an steering wheel, brake and acceleration pedals. You can shift the gear forward and backwards but that depends on the situation you're in. You need to park your car as indicated by the arrow in the parking spot.
We hope you will have fun and will enjoy or newest parking simulator game from VasoGames. Play vehicle Parking 3D now for free!
Game features
-Four different vehicles, Mini, Sport car, pick up and a truck.
-40 different parking levels each level has its own parking challenge
-Real life parking situations
-Realistic Controls
-Great dynamic gameplay
-Extreme precision driving simulator
-Park according to the arrow in the parking place
-Time is not on your side, you got limited time to park successfully
Hình ảnh Vehicle Parking 3D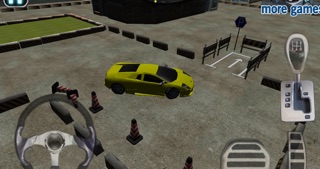 Thông tin bổ sung
File Size: 82,112 MB
Phiên bản: 1.0.0
Đánh giá:
Tổng đánh giá:
Ngày cập nhật: 2013-09-10 23:31:04
   
Tải Vehicle Parking 3D
Chú ý: Game này chỉ dành cho Iphone, IPad, và các thiết bị sử dụng IOS của apple
Click vào liên kết dưới để tải về điện thoại của bạn.
  
Một số game bị Apple Store khóa nên sẽ không tải được, hoặc nhà phát hành game không còn cho tải game này nữa vì game đóng cửa.
IOShay không chịu trách nhiệm về game và ứng dụng bạn tải về.