Giới thiệu: A Penguin Candy Raid FREE- An Amazing Epic Sugar Collecting Maze Saga 1.1 IOS
A Penguin Candy Raid FREE- An Amazing Epic Sugar Collecting Maze Saga
Giới thiệu A Penguin Candy Raid FREE- An Amazing Epic Sugar Collecting Maze Saga
Please help your candy raiding penguin who is determined to cross through the maze of spinning candy wheels. Along the way he must collect candy and coins to achieve the highest possible score. Your goal is to help our candy penguin reach new heights in this action packed game!
How to play:
**Jump across spinning candy wheels and collect everything you can to get the highest score. How long can you jump between wheels before you fail?
** Tap to jump between wheels
** Double Jump with 2 taps
**Collect candy and coins along the way to earn points
** Score as high as you can in order to reach the top Completion Levels
**The game becomes more challenging as the game speeds up and your reflexes are put to the ultimate test.
Features:
** Cool Graphics
** Track your progress and performance with Completion Levels
** Great controls – gently slide or tap your fingers on the screen to jump between wheels
** Stimulating music and sound effects
We hope you enjoy playing the game. Please share your feedback or leave a review. We listen to your feedback!
Want new features or have suggestions?
Email your feedback to [email protected]
Keep up with our newest apps by visiting our website: www.far4apps.com
Hình ảnh A Penguin Candy Raid FREE- An Amazing Epic Sugar Collecting Maze Saga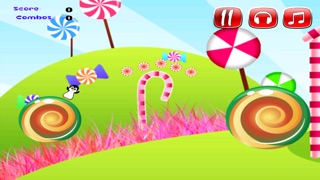 Thông tin bổ sung
File Size: 28,724 MB
Phiên bản: 1.1
Đánh giá:
Tổng đánh giá:
Ngày cập nhật: 2013-12-19 08:00:00
   
Tải A Penguin Candy Raid FREE- An Amazing Epic Sugar Collecting Maze Saga
Chú ý: Game này chỉ dành cho Iphone, IPad, và các thiết bị sử dụng IOS của apple
Click vào liên kết dưới để tải về điện thoại của bạn.