Giới thiệu: Dracula Dentist Office 1.0.0 IOS
Dracula Dentist Office
Giới thiệu Dracula Dentist Office
Dracula is the world's most famous vampire. He is extremely elusive and is even rumored to be a myth. But today, you'll throw away everything you thought you knew about this Halloween icon. Dracula is suffering from a horrible toothache and needs a dentist to help him fix his famous fangs. He has been eating candy bats all week and has neglected brushing his teeth. Now he has terrible cavities that are causing him a lot of pain. Help this fearsome vampire protect his unique teeth in this spooky Halloween themed dentist game or kids. Follow the instructions to clean this viscous vampire's teeth and unlock the next vampire in the family. Repair the teeth of all four family members to complete this fantastic game and send the vampires on their way!
Hình ảnh Dracula Dentist Office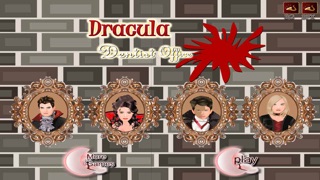 Thông tin bổ sung
File Size: 16,544 MB
Phiên bản: 1.0.0
Đánh giá:
Tổng đánh giá:
Ngày cập nhật: 2013-11-19 22:07:24
   
Tải Dracula Dentist Office
Chú ý: Game này chỉ dành cho Iphone, IPad, và các thiết bị sử dụng IOS của apple
Click vào liên kết dưới để tải về điện thoại của bạn.