Galaxy Candy Blaster
Giới thiệu Galaxy Candy Blaster
Blast your way through an enchanting candy galaxy!
Galaxy Candy Blaster is a FREE, simple and addicting game that's fun for all ages. Who knew candy space galaxy could be so dangerous? Jelly beans, gumdrops, rock candy – they're flying through space about to crash into your spaceship! Luckily, you've got some laser bullets to shoot them to pieces!
How long can you stay alive? How many coins can you collect? Take control of your spaceship and blast through the candy asteroids hurtling through space!
Collect enough coins and you can unlock more spaceships such as the awesome Space Cowboy ship!
*** FEATURES ***
* Incredible endless gameplay means a new game every time
* Collect coins to unlock more spaceships
* Simple game controls good for both kids and adults
* Amazing graphics
* Game Center enabled
* Universal app supports iPhone / iPad / iPod Touch
Download Galaxy Candy Blaster right now while it's 100% FREE!
Hình ảnh Galaxy Candy Blaster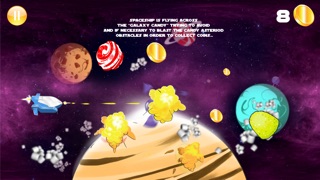 Thông tin bổ sung
File Size: 26,509 MB
Phiên bản: 1.0
Đánh giá:
Tổng đánh giá:
Ngày cập nhật: 2013-03-22 16:56:42
   
Tải Galaxy Candy Blaster
Chú ý: Game này chỉ dành cho Iphone, IPad, và các thiết bị sử dụng IOS của apple
Click vào liên kết dưới để tải về điện thoại của bạn.