Do you love makeover games? Well with Facial Yoga Style you can be the makeup guru by giving the best facial makeover of all time. This game is great fun for everyone to enjoy and gives you an insight into what it takes to have great looking and healthy skin.
Facial Yoga Style works by simply following the arrows and clicking on the products on the table next to the girl. On the table there is a line of beauty products and accessories which allow you to apply to the girl's skin. First you click on the green and white tube underneath the downward facing arrow. This will give you a love heart sponge which you move across her face while clicking, allowing for the sponge to cover all her pimples and skin.
Next you take the shower head and rinse off her face removing any leftover facial mixture. Once clean you then have to work on popping each pimple with the pink pimple popper. To do this, simply check the circle end on each pimple and watch as they pop.
After all the pimples are popped you can move onto applying the jar of facial cleanser by clicking the brush across her face. You then wash it off with the shower head and use the small purple bottle next to her shoulder. After that you can move onto the red bottle of skin cleanser that can be clicked onto her face. When the time runs out the last thing you do is simply pick up the tweezers and clip her eye brows.
Once her face is all clean you then click the "next" button and you will be taken to another screen where you can click on each individual item on the desk and choose her new outfit and look. It's that ease. Once done you then click the "show" button and your girl is all ready for her yoga session.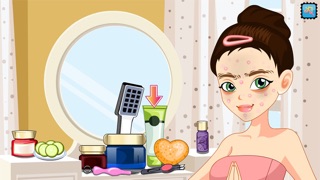 By LPRA Studio