Giới thiệu: Sparta Wars 2048: Battle the Zombie Empire 1.2 IOS
Sparta Wars 2048: Battle the Zombie Empire
Giới thiệu Sparta Wars 2048: Battle the Zombie Empire
Zombies have invaded the Greek city-state of Sparta! You, a proud and mighty Spartan warrior, must travel the surrounding lands to defeat the zombies and ward of the coming invasion! Can you save Sparta and Greece?
———————————————–
The proud and affluent city-state of Sparta is known for it's military might. The Spartans have defeated many in battle and conquered lands far and wide.
Just a few short years ago, sapphires were discovered in the surrounding area. This surprising discovery has led many more to challenge the Sparta in an attempt to control the precious resources. Many have tried, and many have fallen. No one has prevailed.
But the zombies believe they can conquer Sparta. They are attracted to the shiny blue sapphires. So one day, they decided to challenge the mighty Spartan army by invading Sparta!
Sparta has sent many men to defeat the zombies but they were outnumbered and outmatched. You are Sparta's last warrior and must not only clear Sparta of any zombies but also the surrounding forests full of the zombie camps.
FEATURES of this fun, addicting, and easy to play include:
*Play as the mighty Spartan warrior!
*Destroy zombies with a sword or spear!
*Collect Sapphires!
*Unlock additional characters and levels!
*Beautiful graphics and thematic music!
Can you defeat all the zombies in time? Will this be the fall of Sparta? Download the FREE game now and find out!
Hình ảnh Sparta Wars 2048: Battle the Zombie Empire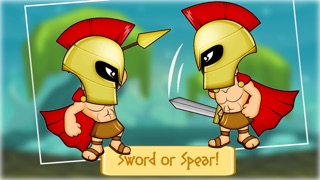 Thông tin bổ sung
File Size: 29,136 MB
Phiên bản: 1.2
Đánh giá:
Tổng đánh giá:
Ngày cập nhật: 2014-03-07 08:00:00
   
Tải Sparta Wars 2048: Battle the Zombie Empire
Chú ý: Game này chỉ dành cho Iphone, IPad, và các thiết bị sử dụng IOS của apple
Click vào liên kết dưới để tải về điện thoại của bạn.